The BNP by-election candidate yesterday insisted he had not been in trouble with the law claiming he was a victim of a smear campaign.
Danny Cooke, 29, hopes to be elected as ward councillor for St Helen's in next weeks poll.
On Monday, a Daniel Paul Cooke, 29, appeared before Barnsley magistrates and admitted criminal damage. The address given was Commercial Road, Skelmanthorpe.
He was bailed until November 7th for a pre-sentence report.
When The Chronicle contacted Danny on Wednesday to ask if it was him he said "no" and said he had been out in Huddersfield all day.
Yesterday The Chronicle was shown documents linked to the case which included the Skelmanthorpe address and another on Highstone Road, Wosbrough Common.
Highstone Road is listed as Danny's address on his nomination form for the election. The electoral register shows a Daniel P Cooke lives there.
Yesterday Danny said he lived on Highstone Road but insisted he had not been in court "I've no idea. it's certainly not me"
He said he was employed in security and could not work if he had a conviction.
When told The Chronicle like to report on the mystery he said there was another Danial Cooke who lived in Wosbrough.
He said various stories about him were being put around the St Helen's Ward, Athersley. "It's probably and English Democrats smear campaign." he said.
A woman called Rachel Firth lives at the address in Skelmanthorpe. Newspaper reports on the internet claim Danny Cooke has a girlfriend called Rachel Firth but Danny denied knowing her.
The pair are friends on Facebook. When told this Danny said he had about 1000 friends and he did not know them all.
I know of her. She's not my girlfriend

Barnsley Chronicle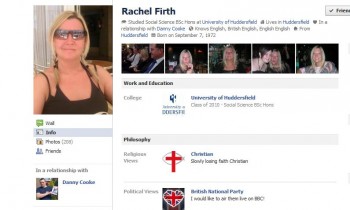 Clicky for bigger